Medical (60601-1) Power Supply AC Adapter Certified to IEC 60601-1: 2005 + CORR. 1 (2006) + CORR. 2 (2007) and EN 60601-1:2006 + A11:2011 via CB Report a is rated up to 120W output with 12-48V output options. Model Series GTM43004P-T2 –T3(A) RCVG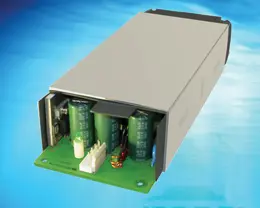 Continuing to pursue its commitment to quality products and service, GlobTek, a world-class provider of power supplies and power electronic solutions, now has a CB Report and Certificate issued by CBTL Intertek ETL Medical (60601-1) power supply ac adapter series GTM43004P Series to latest IEC standard IEC 60601-1: 2005 + CORR. 1 (2006) + CORR. 2 (2007) and EN 60601-1:2006 + A11:2011. The Switching power unit is certified 2MOPP. 2MOPP (means of patient protection) refers to two independent systems of insulation protecting the patient from dangerous voltages. A single insulating component can get this rating based on extensive testing. 2MOPP certification exceeds the requirements of 2MOOP and this unit may be used for either application.
The miniature medical grade (60601-1) universal input switching power supply model GTM43004P is available in Class II, 2 Prong input or Class I 3 prong input. An open frame configuration is also UL approved. Medical grade (60601-1 certified) power supply has an input from 90-264VAC 50-60Hz and a factory configurable output of 12VDC to 48VDC output with a max power of 120W continuous output. This product complies with North American Energy Star, Canadian NRCAN, and other worldwide requirements for Level V efficiency compliance and is produced in an ISO13485 certified facility.
This Family features Regulated output with very low ripple, Built-in over current, Short circuit, Over current, and thermal protection as well as low leakage, low ripple, and high efficiency. The product is suitable for most applications requiring DC power and common applications include medical devices, portable medical treatment and monitoring equipment and instruments, Hospital equipment and fixtures, equipment, and as a power source for Li-Ion battery chargers. Customized, Bespoke, enclosure colors, housing designs, output cord types and lengths, as well as customized packaging available upon request.
Ruggedized waterproof and weatherproof IP52 version available upon request. According to BS EN 60529 and IEC 529, IP52 signifies that the medical (60601-1) power supply is Protected against dust - limited ingress (no harmful deposit) as well as Protected against direct sprays of water up to 15 deg from the vertical. IP52 test report and certification available upon request.
The power supply can be supplied with customer designated output plugs, many of which are stocked at GlobTek New Jersey USA and Suzhou China locations. The power supplies comply with IEC 60950-1 2nd edition or IEC60601-1 3rd edition and have certifications by UL (North America), C-Tick (Australia/New Zealand), Inmetro (Brazil), Iram (Argentina), BSMI (Taiwan), CB (Worldwide), CCC (China), Demko (Europe), eK (Korea), NRCAN (Canada), PSE (Japan), Spring (Singapore), SIQ (Europe), Gost (Russia), Singapore (PSB), and UkrSEPRO (Ukraine). They also comply with Canadian Nrcan efficiency requirements as well as FCC/VCC/CE emc requirements. Made in USA or China option available. Local China to China delivery available upon request. 5 year warranty